For more than 30 years True Confections on Denman at Haro has been a serious temptation to locals and passers-by alike.
It was 1986 when Alanna Pollock and Nadine Junelle met, and in getting to known each other shared their regret that there were no great places in Vancouver to have fabulous desserts. Two years later they decided that the time was right to pool their meagre savings to create Vancouver's first "desserts only" restaurant.
People told them they were crazy, but they hoped that if they stayed true to their mission customers would love their desserts as much as they did. That mission: to serve the largest selection of 'made from scratch' desserts in Canada, using only fresh ingredients.
Alanna's grandmother used to make delicious Devil's Food Cake for special occasions, and Nadine's grandmother made equally special cheesecakes. Armed with little more than chocolate-stained family recipe books, the duo spent two years testing recipes in their home kitchens. In 1989 True Confections opened the doors of its first location and its foot-higher layer cakes and Montreal-style cheesecakes have been winning awards for its outstanding desserts ever since.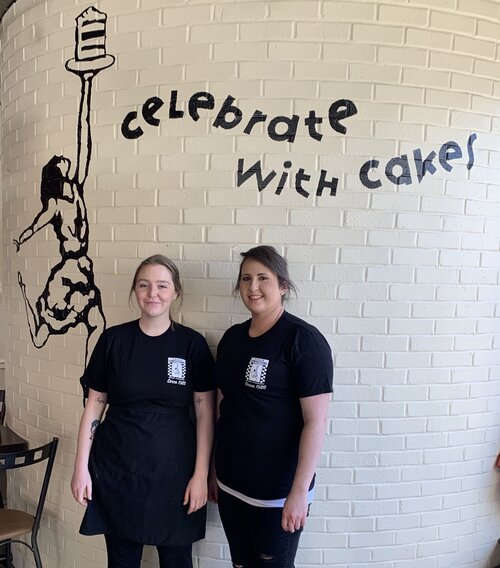 Four years ago Alanna and Nadine harkened to the call of retirement and a less hectic (and kitchen-bound) life and Lin and Calvin Ma purchased True Confections, which by then had a second location on West Broadway. About 18 months ago recent Irish immigrant Niamh O'Brien was hired on as a cake decorator, and six months later was promoted to operations manager, a role that she now holds for both outlets.
A lot has changed in the world over the years. but what hasn't changed is those great desserts being baked daily, with love, in the tradition of their grandmothers.
"We still bake everything for both stores fresh and from scratch here on Denman " Niamh says.
A few months after True Confections opened in 1989 the Vancouver Courier's restaurant columnist Kevin Dale McKeown (The West End Journal's editor) wrote: "I hate to say it in front of hundreds of thousands of people, but I think Mom has met her match. The cakes and tarts and pies and glommies and goodies are rich and wonderful and fresh like Sara Lee wouldn't know from …"
And that certainly hasn't changed.